<![if !vml]>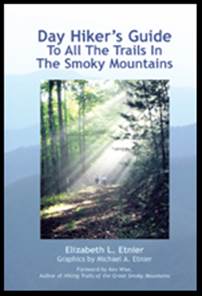 <![endif]>
19,000 copies sold – revised 4th edition available
-
About the Authors
2023 Trail closings - Ramsey Cascade, Porters Creek, Brushy Mt, Old Settlers (west end), and Grapeyard Ridge (east end)
Deep Creek Impassable Between CS54 and CS55.
2023 Road Closings – Greenbrier Rd closed; Heintooga/Balsam Mt and Straight Fork/Roundbottom roads closed Nov 1, 2022 until May 2023.
Energy Mile Theory and NRG Equivalent Calculations
Prescribed burn Cades Cove Mar 3
GRSM announces parking fees beginning March 1, 2023
 By Elizabeth L. Etnier
Graphics by Michael Etnier
Want to hike all the trails in the Smoky Mountains? The Smoky Mountains National Park contains 522,000 acres of forested land that traverses the Blue Ridge mountains between Tennessee and North Carolina and may be accessed from either state. There are approximately 800 miles of trails in the Great Smoky Mountains (GRSM) that are officially maintained by the Park Service and may be used for horseback riding or hiking.
I have hiked all 800 miles of trails in the Smokies, and have written the Day Hiker's Guide to all the Trails in the Smoky Mountains to assist others who aspire to hike all the trails in the GRSM.  Currently, there are 157 maintained trails in the Smokies and I have laid them out in 75 easy to follow day hikes ranging from just a few miles to over 20 miles in length. I provide you with an approach to hiking all of these trails that minimizes duplication of miles hiked while ensuring that no trail segments, or spurs, are left behind. Indeed, if you follow my approach, you can hike all the maintained trails in the Smokies in a total of only 1090 miles! Although intended for the experienced hiker, this guide is helpful for the hiker who wants to go to a particular section of the Smokies and plan out a shorter hike that suits his level of endurance. Additionally, there is a section listing 26 family-oriented hikes. Click on link to see a list of major revisions that have been added to the earlier 4th Edition (2015), and updated 4th Edition (Publication date August, 2020).
This guide has color-coded maps showing the hikes for each area and tables that list the trail sequence and total mileages for each hike. Included are a list of available car or boat shuttle services for the more remote hikes, a handy checklist of all trails, and over 30 color photographs of the Smoky Mountains, wildflowers, and historic structures in the Park. To download a working Excel file that will total your miles hiked as you complete and input them, click on this link.
Map and example of corresponding table for Cataloochee Area
<![if !vml]>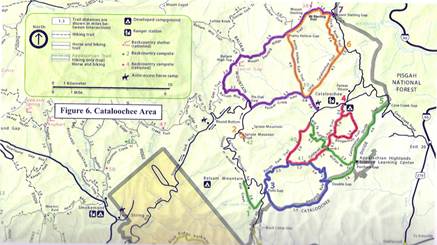 <![endif]>   <![if !vml]>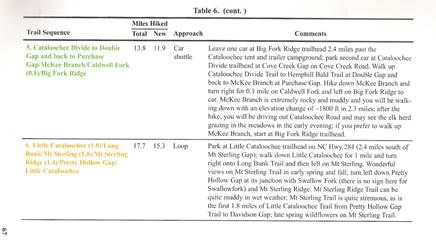 <![endif]>
Paperback, Updated Fourth Edition, 6 x 9, Spiral-bound, 132 pages
ISBN 9780980-0742-77, $20.95 plus tax (where applicable) and S&H
Updated 4th edition now available
Please note that the PayPal cart page incorrectly states that the available book is the 2015 edition. The book you will be buying is the 2022 updated 4th edition.