<![if !vml]>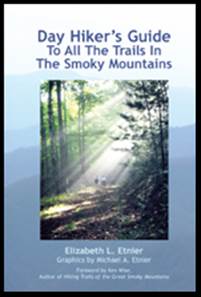 <![endif]>
About the Authors
Spring Wildflower Hikes in the Smokies
Return to Hiking in the Smokies
Road Closing 2018
There are no road closings other than Parsons Branch road as of November 1, 2018.
However, the Park Service has announced that the final 33-mile section of Foothills Parkway from Walland to Wears Valley has been completed, and will open to the public November 10. The NPS plans to open it the morning of November 8 to foot traffic. Details have yet to be announced.
Parsons Branch Road is closed following a washout near Samís Gap, and blockage by many downed trees. Standing dead pines along the road need to be removed, and is prolonging the road closure. The road is closed to vehicular traffic, but will be open to hikers and horseback riders who should assess the risk for travel as they would in any area of the backcountry. Due to the nature of wide corridor, bicyclists are allowed to use the road during the closure. Dogs on a 6-foot leash will also be allowed.